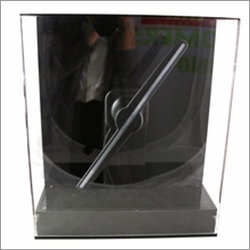 Square Protective Cover
Product Description
Once the Hologram LED Fan is mounted on a wall of any shopping mall, pub, retail store or restaurant with the purpose of 3D advertising, it is must to protects the fan blades against dirt, dust and any unintentional or intentional damage. To cover this 3D hologram fan, one must use a square protective cover. As the cover is transparent, it will not cause any problem in the 3D holographic fan's working, which is to bring a 3D picture or video display in the air. Moreover, it is easy to clean and maintain.
Key Points:
The covers are light in weight, yet can withstand high impact force.
These covers will protect the high-tech product against all kinds of damage.
Based on the diameter of hologram fan, we provide the square protective cover.
These are packed in cartons and delivered to customers.